This is actually only part of the paiting. I couldn't scan more of it. I'll eventually try a taking a picture of it to get the full effect.
Oil painting...one of only a few I've done.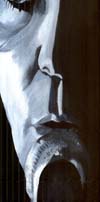 Enter content here

Montana Skies
Unfinished Acrylic
This wasn't completed because it met with an accident that scratched the masonite board it's painted on. I tried to repair it and then got frustrated with I couldn't get the repair colors to match the original sky color and realized I'd have to repaint the whole thing.


Mockingbird
Acrylic on watercolor paper



This is hanging up at my former main employer. I still work for them, but only on an on'call basis. They have 4 of my paintings there, including one hanging up in the administration area.